Employers face complex rules for reporting on the ACA reporting and meeting the requirements of the Mental Health Parity and Additional Equity Act of 2008 (MHPAEA), according to John Barlament, an attorney and partner in the Employee Benefits Group at Quarles & Brady, LLP.
Barlament spoke at The Alliance Learning Circle on "Snags & Snares: The Hottest Legal and Compliance Issues for 2015" on Feb. 19 at The Sheraton Madison Hotel.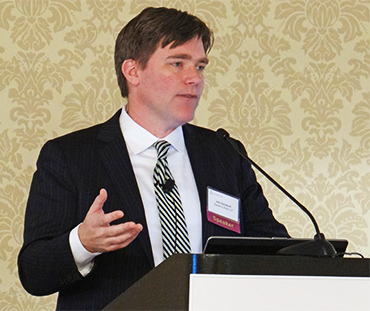 Minimum Essential Coverage for ACA Reporting
Employers are required to file complex reports to show that employees as well as family members who are on the employers' health benefit plan have "minimum essential coverage" (MEC), Barlament said. The first report will be due in early 2016 to attest to coverage provided in 2015.
The video of Barlament's presentation provides an overview of the detailed reporting that the ACA requires. Responsibility for this reporting on self-funded plans typically falls to the employer or, for insurance trusts, to the board of trustees.
To prepare for this task, Barlament suggests creating a spreadsheet of the ACA's required information for reporting purposes.
Employers should figure out:
Where the information is kept
Who will track it
How it will be reported
Vendors are eager to help employers with this task, but Barlament warned employers to "beware anybody who says they are 100 percent compliant with IRS rules," since guidance on the rules for 2016 is yet to be distributed. He advised employers to check the vendors' terms of use to make sure the vendor is held responsible if the employer incurs penalties as a result of using the vendors' product or service.
"Time is of the essence," Barlament said. Start thinking now about how you will accomplish tracking data, preparing reports, handling telephone calls and communicating with employees.
Mental Health Parity Act Rules
Request for Comments on Excise Tax
On Feb. 23, 2015, the IRS published Notice 2015-16, requesting comment on possible approaches for regulations implementing the 40 percent excise tax. Comments are being accepted through May 15. Contact information is listed on the last page of the notice.
nt also touched on new mental health parity act rules that came out in November 2014. Barlament said the rules are intended to ensure "parity" when health benefits for mental health services (and substance use disorder benefits) are compared to health benefits for medical/surgical care.
Under the rules, limits on mental health benefits cannot be "more restrictive" or create more treatment limitations when compared to medical/surgical benefits. Benefits for mental health are compared to medical/surgical benefits through complex calculations that weigh "financial requirements" such as deductibles, co-insurance and out-of-pocket maximums as well as "treatment limitations" related to frequency of treatment, number of visits, days of coverage and the days in the "waiting period" that define coverage for a specific time period.
A separate analysis is typically required for each category, which means employers must complete six to 13 analyses, depending on the structure of their plan, to determine whether parity exists.
Barlament warned employers that complying with the new rules won't be easy.
"I think they are the worst, the most difficult rules, for employers to comply with of anything out there," Barlament said. "They are really drafted to be difficult."
"Mental health gets treated better than everything else on the medical-surgical side."
Creating "super parity."
Any employer who offers mental health benefits will be subject to the act, Barlament said. However, employers do have the option of carving out mental health benefits and discontinuing them.
Employers who continue to offer mental health benefits should be aware that much of the "parity" testing is prospective, which means it is based on estimates of future impact instead of past experience. It also requires information about how benefits are administered "behind the scenes" by TPAs or other vendors. Barlament encouraged employers to enlist vendors such as TPAs, brokers and pharmaceutical benefit managers (PBMs) in their process for reviewing whether they have parity between their plans.
Barlament noted that the process is designed to favor mental health services. For example, the most restrictive copay level for in-network mental health services cannot exceed the least restrictive level for medical/surgical services.
"It's not parity, it's super parity," Barlament said. "Mental health gets treated better than everything else on the medical-surgical side."
Watch the Webinar Recording