You have to "plot and plan" your communications – and your benefit strategies – if you're aiming to help employees become better stewards of health and health benefits.
That's the advice of Pamela K. Appino, PHR, Director of Human Resources at Aqua-Aerobic Systems, Inc. in Loves Park, Ill. Aqua-Aerobic Systems designs and manufactures wastewater treatment equipment and systems for municipal and industrial markets.
A 'Family-Centric' Approach
Originally a family-owned business, Aqua-Aerobic became part of Japan-based Metawater Co. in 2016. Appino noted that Japanese firms are also family-centric in their approach, enabling Aqua-Aerobic Systems to continue to focus on retaining employees.
"As a result, we have very minimal turnover," Appino said. "It's not uncommon to walk among the building and meet people who have been here 45 or 46 years. They come and they stay because they are treated so well."
A rich health benefits plan offers low out-of-pocket costs for employees. Appino said that can sometimes mean that employees overlook the need to be good stewards of their health and their health benefits.
"A lot of our employees had not been good stewards of their health care costs because they knew that whatever they were going to do, whatever their doctor recommended they do, it was going to be covered under their insurance plan," Appino said.
"They were not making the connection in terms of understanding how self-funding works."
Changing Expectations with Communication
Communications aimed at changing that mindset had to be framed carefully to avoid offending long-term, valued employees.
"It's a workforce and a workplace in which we have to take baby steps," Appino said. "They're grounded in tradition so when a change is made it has to be rolled out very tactfully and thoughtfully.
"Benefits is huge to this workforce and so our communication plan has been a very tactical one where we survey the landscape before we take any action."
For example, Aqua-Aerobic is introducing telemedicine. As a first step, Appino randomly sampled opinions among roughly 20 employees of various ages and experience levels to learn whether they would be comfortable with telemedicine. They reacted positively, so Aqua-Aerobic is moving forward to offer telehealth services.
"The communication needs to be open, but you really have to plot and plan with this group."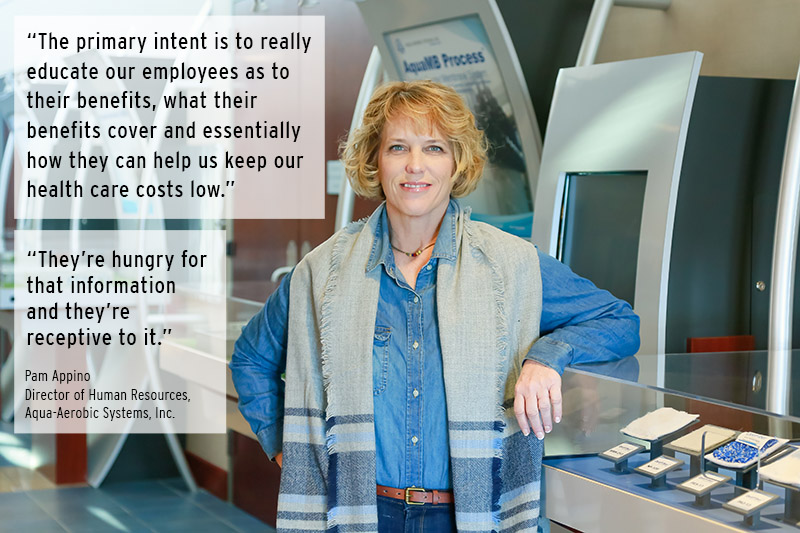 Choosing Resources Wisely
Appino and Gennie Ustich, Aqua-Aerobic's senior human resource specialist, use many different communication channels to reach employees. They created a benefits guide, hold lunch-and-learns, keep a magazine rack filled with health information in the cafeteria and email articles and videos to employees.
"The primary intent is to really educate our employees as to their benefits, what their benefits cover and essentially how they can help us keep our health care costs low," Appino said. "They're hungry for that information and they're receptive to it."
Resources include Consumer Reports Health, Choosing Wisely and materials from BetterLife Wellness, which is offered by SwedishAmerican in Rockford. Aqua-Aerobic was highlighted in Choosing Wisely: A Special Report on the First Five Years for distributing Consumer Reports 5 Questions Cards. Aqua-Aerobic accessed the cards through The Alliance program on How to Be a Better Health Care Consumer.
The Role of Reminders
Appino is realistic about the need to keep reminding employees of how to use benefits wisely. Without those reminders, it's easy for people to forget about the details of their benefit plan.
For example, a recent claims report showed that five people went to the emergency room for conditions that could have been treated at a lower cost through primary care, urgent care or telemedicine. That type of data helps fuel Appino's communications to employees.
"It's challenging because I'll have many people come back and say, 'I didn't see anything about that,' and I say, 'I emailed it, I sent it to you, it's posted on our bulletin board,' " Appino said. "Health and health benefit information is something we try to put in front of the employee each and every day to make certain they're aware."
Relying on The Alliance
Appino relies on The Alliance to help her stay up-to-date on health benefit issues, share information about the future of health benefits and offer resources for educating employees.
She praised Alliance Learning Circles for bringing in nationally-known speakers on diverse topics, such as a recent program that featured Dr. Aaron Carroll debunking the myths of health care. That's where she learned that a dog's mouth is not cleaner than a human's, despite claims to the contrary.
"It was so interesting that Gennie and I decided we are going to have our own 'myth buster' lunch-and-learn for employees," Appino said. She noted that she appreciates The Alliance's flexibility in providing information, which ranges from enabling people to connect to Learning Circles by webinar to sharing information in its weekly electronic publication, Moving Forward.
"The Alliance understands how busy benefits and human resources people are," Appino said.  "So The Alliance tries to reach out to us in whatever way possible. It's not always us coming to you to look for answers – it's The Alliance putting it forward so we can use it."
Geographic Coverage
The Alliance network plays an important role in Aqua-Aerobic Systems' benefit strategy by offering a broad choice of health care providers to the 118 employees who live in northern Illinois and southern Wisconsin and use The Alliance to access care. 
"Geographically, I like the way The Alliance is going in terms of coverage," Appino said. "At open enrollment, we talk about The Alliance and its network and share information with employees.
"We've never had a complaint about the geographic coverage of The Alliance network from our employees in northern Illinois. We are very pleased."
Appino recently became involved with The Alliance Health Policy Committee, which plays a key role in charting the cooperative's course in effective advocacy on health policy issues at the state and federal level.
"I really appreciate the opportunity to be engaged with that volunteer group," she said.
A Network Built for Self-Funding
Appino noted that self-funding creates a consistent benefit plan for employees in Loves Park as well as those who live and work out-of-state and are served by other networks. Self-funding also eliminates state insurance premiums that would be added to a fully-insured health plan.
The Alliance's contracts with providers also help Aqua-Aerobic use self-funding to save on health benefits.
"It allows us flexibility in choosing which benefits to offer and lets us capture the potential savings from having a healthier workforce," Appino said. "I don't see us ever going to a fully-insured plan."