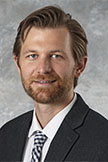 Zach Ketterhagen
Product Manager
Zach joined The Alliance in 2016, where he worked as the product manager creating innovative solutions to lower the cost and increase the value of health care.
Zach apprenticed for nine years with world-renowned experts in yoga, mindfulness, holistic health and well-being after graduating college from UW Madison with a degree in Sociology. In 2013, he helped launch and grow YogaInternational.com, now a leader in online yoga and well-being education. Zach has taught yoga and meditation for 10+ years. He created Mindfulness in Action to deliver cutting-edge strategies to enhance employee well-being and overall job satisfaction—resulting in happier employees and happier customers!
Zach lives in Sun Prairie with his wife, Crystal, and his two sons, Dante and Hugo.
---
Posts by Zach Ketterhagen