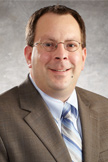 By Paul Roelke, member services advisor
I'd like to share a story about how cost and quality information
can make a difference in the lives of your employees.
Before The Alliance introduced its Find a Doctor tool, we shared
cost and quality information through our QualityCounts®
program. I was at a benefit fair held by an employer in the Madison
area when I shared the big differences in costs charged by
different hospitals, clinics and imaging facilities for tests like
CTs and MRI scans.