When the doctor's office is closed and your sore throat or sprained ankle is still bugging you, it's great to have a convenient way to get care. But that "convenience has a cost," warns the PwC report on Medical Trend: Behind the Numbers 2017.
The PwC Medical Cost Trend report calls convenient care an "inflator" of medical trend because it has led to higher utilization of health care.
At first glance that seems contradictory, since we know urgent care and retail clinics cost less than the emergency room. But even if each visit costs less, higher utilization can more than eat up the savings and create a net increase in health benefit costs.
Learn more about "inflators" of health benefit costs at the Dec. 13 Alliance event:
Let's Talk About Trend: The Alliance Annual Benefits Roundtable
. This event is open to Alliance members and other employers or insurance trusts interested in learning more about our not-for-profit cooperative as a better way to buy health care.
More Clinics, More Utilization?
That pattern was revealed in a Health Affairs study released in March 2016. The study covered care for "low-acuity conditions" among three million insurance company customers between 2010 and 2012. Urinary tract and sinus infections are examples of the 11 low-acuity conditions included in the study.
The study found that 58 percent of retail clinic visits were due to new utilization, while only 42 percent were substitutes for other, more expensive forms of care. For retail clinic patients, that translated to an increased cost of $14 per person per year for caring for minor medical conditions.
Meanwhile, the number of clinics continues to increase. The PwC report notes there will be more than 3,000 retail health clinics in the U.S. by 2017. In addition, there are 9,300 walk-in, stand-alone urgent care centers, with another 50 to 100 new clinics opening their doors each year.
That's a lot of access to care. And consumers are taking advantage of it, especially young patients who favor easy access to care at a retail or convenient clinic site over waiting for an appointment at the doctor's office. As the PwC report puts it, "ubiquitous locations and convenient access is increasing utilization and incrementally inflating medical cost trend."
Exploring 'Inflators' and 'Deflators'
Isgur leads PwC's Health Research Institute (HRI). HRI is a dedicated research group that provides new intelligence, perspective and analysis on major health-related business issues. At the Dec. 13 event, he'll explore the medical trend report, including advice for employers.
Be a Better Health Care Consumer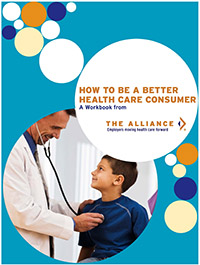 The PwC report says that benefit design, including cost sharing with consumers, could help fix the convenient care issue.
In the meantime, employers can work to help consumers understand how to make better use of the health care system. The Alliance can help with its presentation and booklet on "How to Be a Better Health Care Consumer" at your workplace.