In our third and final Direct Primary Care webinar installment, our own Melina Kambitsi, PhD., hosted Proactive MD's executive vice president of direct care services, Justin Leigh, to discuss what makes Direct Primary Care so impactful.
During the second portion of the webinar, The Alliance brought back three employer-members from our previous webinar to answer more questions from their fellow members. A big thanks to Dan Ludwig of Brakebush Brothers, Tena Hoag of Advanced Laser, and Jake Nolin of Rice Lake Weighing Systems, for rejoining us.
You can view the webinar in full here.
What is Advanced Primary Care?
Melina started the webinar by explaining that, as the voice of self-funded employers, The Alliance remains focused on providing High-Value Health Care to its members using our four core drivers: Transparency, Payment Reform, Benefit Plan Design, and Provider Network Design. High-Value Health Care happens when individuals have access to higher-quality care that costs less, and The Alliance believes the best way to achieve it is by implementing cost and quality strategies at the source – the primary care level.
In fact, as Melina explained, "Over 80% of patients with chronic conditions access primary care, making it the most prevalent type of office visit. It is also the most affordable type of service [for the patient] and least expensive [for the employer].
However, within our current health care system, traditional primary care has missed the mark due to, in Melina's words, "Misaligned payment incentives, lack of behavioral health integration, and lack of appropriate referrals – to potentially inappropriate testing, but also to specialists who drive up costs – and compromise both the effectiveness of care and patient satisfaction."
Enter Advanced Primary Care, an elevated standard of primary care that's measured by improved health outcomes for patients, lowered total health spend for employers and employees, and achievement towards higher levels of patient satisfaction and activation.
Through our research over the past year-and-a-half, speaking with brokers, consultants , our employers, and the National Alliance of Healthcare Purchaser Coalitions – the broad umbrella organization of all coalitions in the country We have identified the key characteristics of Advanced Primary Care." Those nine characteristics are outlined below:
Enhanced Access for Patients 
More physician-patient time and an enhanced scope of services, more immediate care availability, and availability outside of clinic operation hours.
Evidence-Based Medicine 
Care teams avoid test orders not linked to evidence and change management; standing orders and protocols for patients with chronic disease management. 
Risk-Stratified Care Management 
Each patient receives care based on their unique needs; extended office visits, care manager guidance, monitoring and tracking, phone check-ups, etc.
Care Coordination 
Advanced primary care teams engage in outreach, including chronic care condition management, coordination of care, and ensuring patient understanding of medications, orders, adherence expectations, etc.
Care Navigation 
Careful selection of specialists – clinicians use a narrow list whom they trust and remain in constant contact as treatment plans develop. 
Organizational Infrastructure & Backbone 
Provides analytical and reporting capabilities, complete Electronic Medical Records (EMR's), coordination and communication with other providers, payers, and continuous staff improvement and training. 
Behavioral Health Integration 
Using patient records, care teams can identify patients who may need outreach to assess behavioral health needs through multiple methods of connection, supporting patients through ongoing treatments.
Realigned Payment Methods
Rewarding care management team based on quality of care – care quality, patient experience, resource use and referrals – instead of volume of care (fee-for-service). 
Referral Management 
Advanced primary care produces fewer referrals outside of the clinic (less than 10%). 
Why Direct Primary Care?
Because, according to Melina, "Direct primary care improves patient health and lowers the total cost of health care. Our expectation is that the total cost of healthcare will be lowered by about 15%."
And how does this innovative primary care model work? It is patient-centered care for the whole family and is a membership-based model, so there's no insurance required and pricing is transparent. Instead of aiming to generate the more specialty care, our direct primary care system exists to generate more health.
In other words, direct primary care emphasizes developing and maintaining a trusting patient-physician relationship while utilizing an alternative payment method that greatly improves access to high-quality care with a flat, affordable membership fee.
Proactive MD Partnership & The Patient Promise
Melina then turned it over to Justin Leigh to talk about Proactive MD, a primary care organization that's been in the value-based primary care business for about 10 years and operates 60 locations.
"Our core philosophy is centered around our patient promise and using a direct primary care approach," Justin continued. "Our physicians are seeing no more than 10-12 patients per day, and a lot of the issues with health care – primary care specifically – can be tied to volume. So by simply solving for the volume issue, and giving physicians more time with their patients, they can do a lot more for them."
True Patient Advocacy & Accurate Navigation
However, Justin said that it's not just about time spent with patients, but the ease of access that's important for patients, too. "We can deliver same-day appointments over 99% of the time and our average wait time is below five minutes." This increase in access, availability, and physician-patient time, when combined with the elimination of co-pays, creates a high-value model with high levels of patient satisfaction.
He explained the importance of high patient satisfaction for employers when it comes to benefit plan design. "By offering employees unlimited access to high-quality care without the traditional hassles, it becomes a great enhancement to their employee benefit offering."
Experienced Data Analysis for Better ROI
Proactive MD's direct primary care solution is all about data – which The Alliance knows and understands well – so both organizations are a good fit for one another. "On the back end, we've been servicing larger self-funded clients for about a decade now, so we have a fantastic data science team that works in collaboration with The Alliance to do all our claims analysis and reporting," Justin said. "By risk stratifying across the entire population, we can start to engage in true population health measures; we can do targeted outreach, condition-specific outreach, and we can customize what that outreach effort might look like."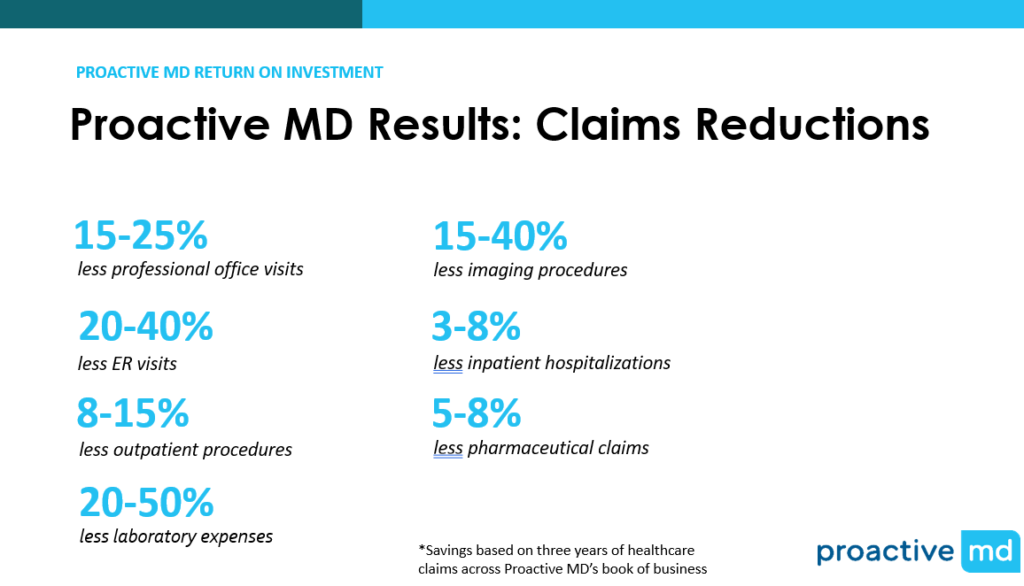 "Clients who are interested in a direct primary care clinic model want to see a return on investment. They love the idea of enhancing their employee benefits, but they need to see savings. That's why we stand behind strong performance guarantees and have designed pricing models that eliminate a lot of the risk associated with a clinical strategy – but the ability to release as little as possible into specialty care is what truly drives savings."
The Total Health Solution
Melina rejoined the conversation to state how The Alliance has developed a solution that can work for all employers.
"Our offering doesn't have an Alliance box around it; we are open to all employers – self-funded, all–insured, and even individuals – that want to participate. Of course, the employer pays a per–member per–month fee instead of a bill for each service. We provide clinic usage reporting to the employers and also the brokers, and more importantly, help the care team to identify the high-value providers with as close to a real-time data integration as possible."