Isgur, the leader of PwC's Health Research Institute, spoke at The Alliance's Employer Benefit Plan Design Evolution event July, 2017. He focused on inflators and deflators of medical cost trends.
"Growth in employer medical costs – which has been gradually declining for decades – is settling into a new normal characterized by flatter, single-digit trend," said Benjamin Isgur.
PwC estimates annual medical cost trends. However, in recent years, actual increases in cost have trended lower than what was originally projected.
Currently, PwC projects a 6.5 percent medical cost increase for 2018 or 5.5 percent after plan design changes. The same 6.5 percent projection was made for 2017. The actual cost increase was lower than expected – at a 6 percent increase. That means the increase in medical cost trend has been slowing.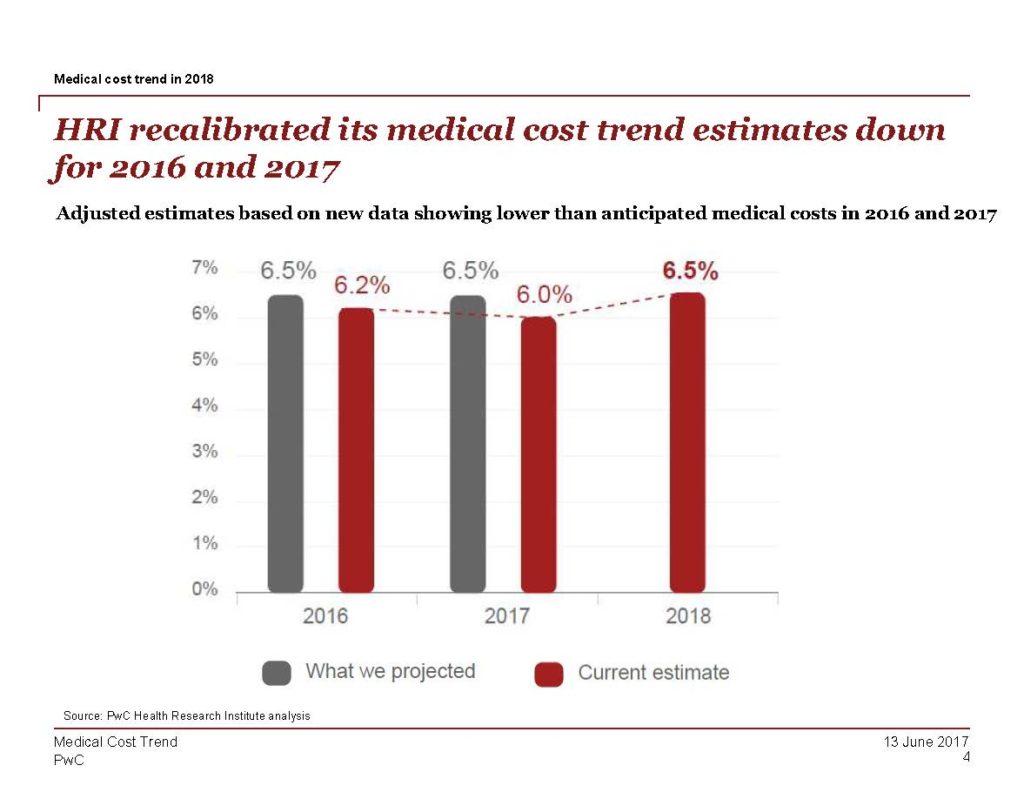 What costs the most?
"Roughly half of employer health costs stem from hospital inpatient or outpatient services," said Isgur.
When you take a closer look behind the numbers, medical cost is a product of two factors.
Medical Cost = Utilization x Price
Over the last 10 years, utilization has not been a major driver of increased cost. Isgur hypothesized that this is due to employers changing their benefit design strategies. In recent years, more employers have been promoting high-deductible health plans (HDHPs) or other cost-sharing initiatives such as higher co-pays or co-insurance.
"When people pay more out of their own pocket, they make different choices in terms of using benefits. We think that has actually tamped utilization down over the past decade," said Isgur.
Patients more often delay an elective procedure than they have in the past. "Sometimes up to 20 to 30 percent of consumers with high deductibles are delaying seeing a specialist or taking their prescriptions," said Isgur. This correlates to the trend that prices have been going up, not utilization.
Prescription drug prices are only a small portion of medical costs, but prices have increased 20-percent within the past 10 years. This is an area to watch.
Inflators of Medical Cost Trend
Inflator #1: Rising general inflation is impacting health care.
As the consumer price index (CPI) increases, prices in all market sectors – including health care – will increase. Inflation was decreasing or flat from 2011 to 2015. However, since 2015, inflation has been steadily increasing.
Inflator #2: The movement to HDHPs has lost steam.
The share of employers considering a HDHP as a full replacement option is falling. Consumer confidence in these plans is falling as well.
"Sixty-nine percent of consumers we surveyed (that were enrolled in a HDHP) said that they wouldn't choose a HDHP again," said Isgur.
Inflator #3: Fewer branded prescription drugs have come off of patent.
U.S. pharmaceutical sales revenue associated with branded, small molecule drugs going off patent protection declined in 2016 and 2017. When the patent of a prescription drug expires, the drug becomes available as a generic. The majority of the cost savings will be seen within the first 12 to 24 months of the expiration of the patent.
Deflators of Medical Cost Trends
Deflator #1: Political and public scrutiny puts pressure on drug prices.
Public scrutiny and political pressure on pharmaceutical companies has encouraged a recent reduction in the growth of drug costs. Since the 1990s, pharmaceutical prices have been increasing.
Deflator #2: Employers target the right people with the right pharmaceutical treatments at the right time to minimize waste.
Strategies such as quantity limits, prior authorization and/or step therapy are becoming more popular in employer health benefit plans.
Impact of the Trump Administration on Health Policy
Recently proposed health policies have posed modest health care cost increases in the near term for employers. However, Isgur said employers should expect to see a continued focus on value in health care and pressure to reduce health care costs.
What's an Employer to Do?
Isgur left our audience of self-funded employers with the following three things to consider.
Target wellness programs to the right people. Use biometric data and analytic tools to create wellness programs tailored to your population.
Evaluate your pharmacy claims data.

Identify what conditions and drugs drive spending in your population.

Work with providers to reduce health care costs.

Being a part of a coalition, such as

The Alliance

, allows self-funded employers to join together for increased direct-purchasing power.
Learn More about Medical Cost Trends