Providing High-Value Health Care to Self-Funded Employers
We bridge the gap between providers and employers, partnering with you to bring high-quality, fairly priced services to employers, employees, and their families. Our strong employer connections and employee guidance initiatives can benefit your practice (or hospital or health system) while helping you care for your local community.
To date, we've partnered with 38,000 doctors and health care providers across the Midwest, offering coverage to more than 115,000 people.
(For participating providers only)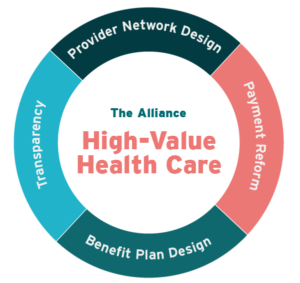 High-Value Health Care
What is High-Value Health Care — and how does it help more people access high-quality care at more affordable prices? Explore the four core drivers behind our High-Value Health Care philosophy.
Participating Provider Manual
Thank you for partnering with The Alliance! As a participating provider, you can find all your relevant policies and procedures below.
Service and Support
Claim Submission Guidelines
Find information on filing claims (electronically or paper), plus tips for quick claims turnaround.
Reimbursement Guidelines
Find information on bundled services, category II codes, coding edits, a modifier reference guide, and more. 
Review Your Provider Directory Listing
Service Area Map
Head to our Provider Networks page to view our Comprehensive Network service areas which extend from Wisconsin into Michigan, Minnesota, Illinois, and Iowa.
Credentialing
Our credentialing process verifies training, experience, licensure, and competence to determine if a provider is fit to partner with The Alliance. 
The Alliance Logos and ID Cards
The Alliance has a few different logos that may appear on member ID Cards (represented below). These are the most current logos that could appear on the front or back of the ID Card.

These logos may also appear on member ID cards. Any of these logos are acceptable and mean your organization is in-network for members and their dependents.

Participating Provider Responsibilities
Please review this overview of important contract reminders for participating providers. 
Claims Portal
The Alliance Provider Claims Portal is a comprehensive resource for participating providers that offers information such as: claim filing status, detailed TPA information, customized claims processing, and more!
Provider Forms
All the forms you need. All in one place.
Have a question for our team?