Community Supported Agriculture (CSA)
In the spring, consider signing up for a CSA share. CSA is an arrangement between local farms and households. You pay a fee to the farm, which entitles you to a share of the farm's harvest. Each week, or sometimes every other week, you pick up a box of fresh foods from the farm.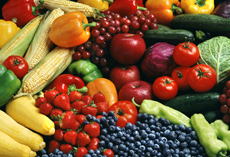 Your employer may offer a discount or reimbursement for CSA as part of a wellness program. Talk to your benefits manager for more information.
You can find farms offering CSA shares in any state at LocalHarvest. Learn more about CSAs by visiting the links below:
---
Patient Safety Toolkit
Getting Safer Health Care
Managing Your Medication
Preparing for Your Hospital Visit
After Your Hospital Visit
Recommended Links
Agency for Healthcare Research and Quality (AHRQ)
Wisconsin Department of Health Services
State Bar of Wisconsin
En español
---
Diabetes Toolbox
Self Management
Learning the Basics About Diabetes
Working with Your Diabetes Care Team
Living Well with Diabetes
Understanding Long-Term Complications
Treatment Options
Information about modifying lifestyle and behaviors, managing diabetes with medications as well as using complementary medicines and alternative therapies.
Managing Diabetes with Pharmaceuticals or Medications