"We envision a future where high-quality, affordable health care is reliably delivered to all patients. And where people have confidence in their health plan."
That's how CEO Cheryl DeMars described The Alliance vision when she kicked off our 2019 Annual Meeting.
"Together, Alliance employers purchase health care for 100,000 people, giving us the leverage needed to change health care for the better. If each of our members add incentives to their health plans to encourage patients to choose high-value care, doctors and hospitals will be motivated to take better care of employees and their families."
Keynote speaker Suzanne Delbanco, one of the country's foremost experts on payment reform, explained it this way: "The Alliance creates new programs that allow you to use cutting-edge practices, to deliver high-value health care for your employees and their family members in a way that can influence the health care system."
The Alliance Annual Meeting served as the launchpad for our Roadmap to High-Value Health Care, featuring real-life examples from employers that use the flexibility and data The Alliance provides to move the needle on quality and cost. For example, Dan Ludwig, Director of Benefits and Strategy at Brakebush Brothers, explained how his company used steerage to keep premiums stable over the past five years and have lower per member costs in 2018 than in 2014. For more information on the strategies they implemented and tips for self-funding, read The Alliance case study on the Brakebush initiative.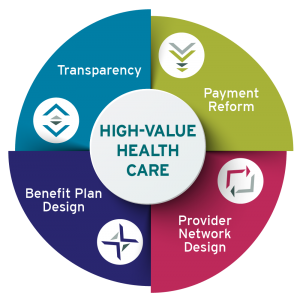 The Four Core Drivers of High-Value Care 
If you missed the meeting, The Alliance's Roadmap to High-Value Care will be further detailed in this space in the coming weeks. As a preview, The Annual Meeting focused on four core drivers that provide the framework for Alliance employers to move toward better cost and higher quality. They are:
Transparency – Putting accurate, understandable, and easy-to-access information comparing cost and quality from different providers at consumers' fingertips. The transparent quality measures of QualityPath® are a good start, but an enhancement of transparency tools for employers is on the roadmap.
Provider network design – Giving employers the ability to steer enrollees to high-value settings for health care delivery through steerage, tiering, and providing cash incentives – whatever fits them best.
Payment reform – Using reference-based pricing and bundled pricing to cut waste and reward quality to provide our employer-members increased predictability, simplicity and transparency.
Benefit plan design – Using data analytics to create customized health benefit designs to maximize everything mentioned above and empower and incentivize your employees and their family members to take part in the push toward high-value care.
Watch this space for further detail and actionable information, then call us to schedule an in-depth discussion about how we can help you find a solution that fits your client or company best. Whether your plan covers 300 or 3,000 people, you are part of the solution.