EDITOR'S NOTE:
Cheryl DeMars, president and CEO of The Alliance, took the stage at Disrupt Madison to talk about how employers can join together to "disrupt" health care and create positive change. This speech was a prelude to the unveiling of The Alliance's High-Value Health Care initiative at the cooperative's annual meeting, and a call-to-action for employers to get involved to help change health care.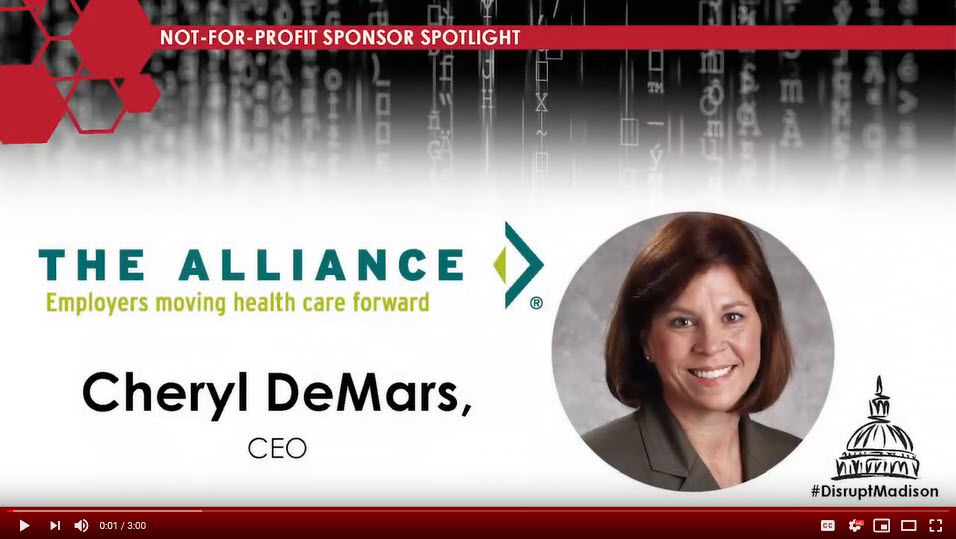 Have you watched the classic movie, The Wizard of Oz?
Then you probably remember Dorothy's ruby slippers.
Do you remember what Glinda the Good Witch said to Dorothy about the slippers?
She said, "You've always had the power my dear. You just had to learn it for yourself."
The Power Within Alliance Members
Dorothy trying to find her way home reminds me of employers trying to change health care. You have the power, you just have to learn it yourself.
The Alliance is a cooperative of 240 ruby-slipper wearing employers who are taking control of health care through self-funding.
In Baraboo, Wis.

,

Flambeau

opened

its own

health care

clinic

for employees

. The clinic provide

s

free care to employees many of whom were not getting routine preventive care. Over the course of the next five years, Flambeau's health care costs

rose

less than one percent – not per year, but IN TOTAL

– IN 5 YEARS

.
In Westfield, Wis.

,

Brakebush

Brothers

did even better.

In 2014, t

hey

began self-funding their benefit plan, opened an on-site

health care

clinic and made other investments in employee well-being. Four years later, their health care costs are

less

than they were in 2014. Yes,

that is correct

–

their health care costs went down.
The Alliance helps employers realize the power of their ruby slippers. And, together, we are making a difference in this market. Alliance members are moving their business to doctors and hospitals that provide good care and cost less. In the process, they are creating a market that recognizes and rewards better value – just like every other industry.
We invite you to join us – the more the merrier. Because after all, there's no place like The Alliance . . . There's no place like The Alliance . . . There's no place like The Alliance.