The Alliance believes it's important for employers to stay up-to-date on health policy legislation – especially during an election year. And because health policy can be complicated, we invited experts from the American Benefits Council to give our members a high-level look at current (and future) health policy issues during our Oct. 8 webinar. The following article is a recap from that event. Click here to view the full recording.
Short-Term Legislative Look
Ilyse Schuman, Senior Vice President of Health Policy at American Benefits Council, began the presentation and explained that on Oct. 1, the House of Representatives passed a scaled-back COVID-19 stimulus bill, but that it won't likely pass through the Senate. "The sides seem far apart on talks about COVID-19 stimulus relief and it is unlikely that there will be a bill passed that includes health policy provisions before the election."
COBRA Subsidies
She then turned her attention to a hot-button item for employers: COBRA Subsidies. "Hopes for Congress passing legislation to shore up employer-sponsored health care and other health policy priorities before the election look unlikely."
She explained that the original version of the House-passed HEROES Act in May would have provided a 100% subsidy of premiums for terminated workers enrolled in COBRA as well as assistance for furloughed workers remaining on their employer plans. However, the COBRA subsidies portion was stripped from the scaled-back stimulus bill the House passed on Oct. 1.
"In its place was a proposal that would make all workers receiving unemployment insurance automatically eligible for premium subsidies on the ACA exchanges. This could be seen as a troubling lack of broad support for employer-sponsored insurance."
90% of voters support the federal government taking action to help those who have lost their job preserve their employer coverage. and the American Benefits Council will continue to fight for COBRA subsidies and also consider other policies to shore up employer-sponsored coverage during this public health crisis
Surprise Billing
Though supported by both sides of the aisle, a broader surprise billing clause was not included in either House-passed bills this year, and it's clear there are still some disagreements on which approach to take in prohibiting surprise billing. However, it remains a high priority for the retiring Senate HELP Committee Chairman Lamar Alexander (R-TN) who helped create the Lower Health Care Costs Act which also included other measures like enhancing transparency and other provisions to improve quality and affordability.
"The Alliance provided testimony to the Senate which, along with that of many others, was used to develop the Lower Health Care Costs Act and we're really pushing to get that across the finish line with Congress. This is a testament to employers and that your voice really matters," said Schuman.
Additionally, there was a recent executive order by the White House to come up with a surprise billing legislative fix by the end of this year; they did not specify what action to take or when it would happen, so it is in the hands of Congress for now.
COVID-19 Testing and Vaccines
Schuman moved the discussion to focus on COVID-19 by stating frankly: "Even if there is a cure or vaccine for COVID-19 by the end of the year, it is unlikely to be administered on a widespread basis. Employers need to be planning for COVID-19 workplace strategies through 2021, effectively stepping into a public health role and widespread testing for public health surveillance."
There are still many questions that remain unanswered, including the cost of vaccines and who pays for them. Schuman said it's worth noting that the HEROES Act would have allowed $75 billion for testing and contact tracing.
Telehealth
Schuman also noted how the pandemic has fueled efforts to expand access to telehealth services. "A recent report by McKinsey estimates that up to $250 billion, or 20% of the current U.S. health care spend, could potentially be virtualized."
Next, she expressed optimism that legislation geared toward telehealth will be passed soon. "Even if no telehealth legislation passes this Congress, it will certainly continue to be a focus in the next."
The American Benefits Council will continue to urge Congress to increase employer access to telehealth and remove state barriers for those services.
Price Transparency
Schuman then passed the presentation over to her colleague, Katy Johnson, Senior Counsel of Health Policy at American Benefits Council, to discuss items employers can expect to see in terms of regulatory health policy initiatives.
Johnson reminded viewers that the president issued an executive order focused on hospital price transparency in June of 2019, and explained the two main requirements for the provision:
Plans and issuers would be required to provide an internet-based self-service tool for pre-service cost-sharing estimates. Those estimates need to be individual-specific and based on negotiated rates.
Plans and issuers would make publicly available a machine-readable file of the negotiated rate of in-network providers for services under the plan, and also a list of the historical allowed amount covered under the plan.
She then explained that the proposed rules have garnered a lot of attention – both positive and negative. In fact, over 25,000 comments were filed on them. "Price transparency could be extremely valuable as a means to reduce health care costs, but at the same time there's a number of rules that could be difficult to administer or potentially burdensome." Johnson then noted that the proposed effective date for the rules will likely be one or two years for proper implementation.
She closed her remarks in regards to price transparency by stating that the rules were received for internal review by the White House of Office of Management and Budget on Sept. 11, which means that pending news is imminent.
Other Potential Guidance
Johnson said that employers are now allowed to send employees to the ACA exchange using tax-free money in an HRA – but there are a lot of stipulations attached to it. "Rules were proposed to help employers avoid an employer mandate penalty last fall, but we haven't seen a final ruling yet."
Another note she mentioned was that payments for Direct Primary Care arrangements are currently considered medical care, but in most cases "you are not eligible to receive HSA benefits in tandem with a Direct Primary Care arrangement."
The Health Benefits Council is working hard on the congressional side to remove that barrier to Direct Primary Care for employers. They are also working to help individuals carry over their flexible-spending arrangements they were unable to use due to the pandemic into 2021 so people don't forfeit the money they set aside.
The Affordable Care Act in the Supreme Court
Johnson closed her presentation by sharing news regarding the ACA and explained that a few weeks ago the Trump administration released the America-First Healthcare Plan, which supports coverage for pre-existing conditions, as the ACA – which currently covers pre-existing conditions – is being challenged in a case being heard by the Supreme Court on Nov. 10.
She then turned it back over to Schuman to explain the differences in each presidential candidate's positions on major health care topics.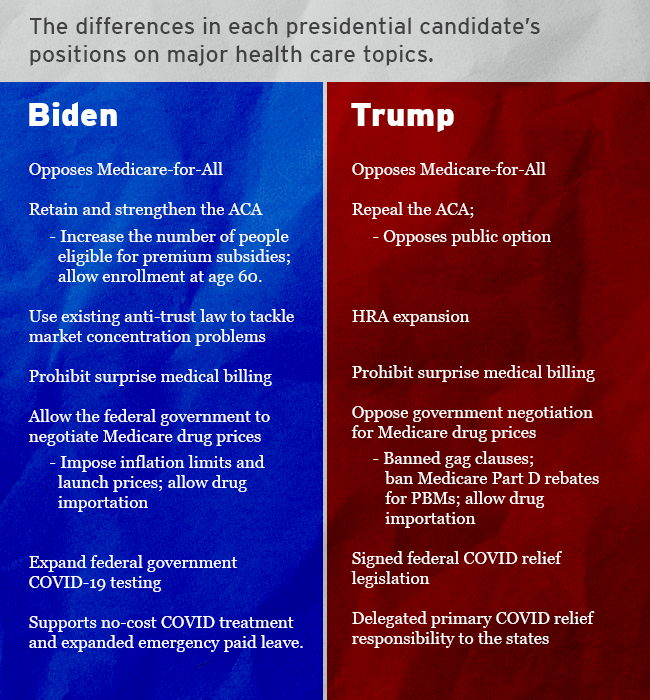 Join The Alliance Health Policy Committee
The Alliance closed the event by thanking the speakers and extending an invitation to join the Health Policy Committee. There is no need for prior health policy knowledge – the only requirement to join is to be a member of The Alliance, have an interest in health policy, and a willingness to be involved. There are roughly three meetings per year.
Watch the full presentation here.