Should my business self-Fund?
Your Business Can Self-Fund
A growing number of businesses and insurance trusts are proving that a self-funded health insurance plan can be a cost-effective alternative to the traditional fully-insured approach. When your business self-funds, you are taking on the responsibility – as well as the risk and rewards – of paying the medical and prescription drug claims of enrollees.
Three out of five covered workers in the U.S. are covered by some type of self-funded medical plan.
Among employers with 200 or more employees, that jumps to four out of five employees.
Coverage 
is contracted
 by employer or through an employer cooperative, like The Alliance.
Active Human Resources role; often have an internal benefit administrator
Pay claims via a third-party administrator (TPA) either as incurred
or by monthly deposits of expected or maximum costs into an accoun
t
The business assumes the risk, 
and purchases
 stop-loss insurance 
to
 protect against catastrophic claims
, but also 
keeps the
difference, including interest income
Full access to claims and pharmaceutical data
Plan must meet federal (ERISA) standards
Full access to claims and pharmaceutical
data
Coverage 
is purchased
 from an insurance carrier.
Minimal administrative role
Plan design and provider network come from the insurer
Higher fully-insured premiums cover the risk and generate profit for the insurance company
Plan and premiums revisited annually or when term ends and are 
based on
:
Employee group size

 

Claims experience

 

Carrier's desired profit margin

 
Employer is limited to insurer's plans that were filed with and approved by the state.
Plan must include state mandates
Plan design and network determined by insurer
Limited access to claims data
With self-funding you get: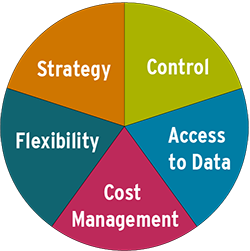 Control
You make the big decisions about employee benefits, including benefit levels, co-pays and deductibles.
Access to Data
You own your data. You can use it to manage your plan and guide your decisions.
Cost Management
The insurer's profit margin is eliminated, so you gain the rewards of a well-managed benefit plan.
Flexibility
You can design a plan to match the needs of your employees and your organization. Self-funded plans are governed by federal rules, not state mandates, so one plan design can be offered in many states.
Strategy
You choose what steps to take to get more health – and better health care – for your money.
Click the chart for details!
Self-funded benefits for 75 – 250 employees?
It's simple.
Should your business self-fund?
Answering 10 questions can help you decide. Read the Wisconsin Business Voice article written by Cheryl DeMars, president & CEO, The Alliance.
More Information About Self-Funding
The Alliance annual offers courses and webinars on basic and advanced self-funding topics.
The Self-Insurance Institute of America (SIIA) offers resources and answers your questions about self-funding.
Self-funding is an option for businesses, municipalities, school districts, unions, Taft-Hartley insurance trusts and other organizations. Get a picture of what self-funding means – and who is using it – with our infographic. Businesses in a wide variety of industries can benefit from self-funding.
Alliance Members by Super Sector
Alliance Lives by Super Sector
Manufacturing - 34%
Educational Services - 15%
Public Administration - 11%
Retail Trade - 9%
Health Care and Social Assistance - 6%
Finance & Insurance - 6%
Wholesale Trade - 5%
Other Industries - 10%