Americans take a lot of medicine. More than 4 in 10 (44 percent) regularly take a prescription drug. And among those, people take an average 4.5 medicines — and an eyebrow-raising 16 percent take 7 or more. That's according to our 2013 Consumer Reports Best Buy Drugs Prescription Drug Tracking Poll of 1,136 U.S. adults.
But the high costs of medicines, our poll found, too often can lead to risky behaviors and force families to choose between the medications they need and paying other bills.
More than half (57 percent) of those we spoke with reported taking steps in the last year — some of them potentially dangerous — to curb high medication costs. That included not filling a prescription (17 percent), skipping a scheduled dose (14 percent), and taking an expired medication (14 percent). People who didn't have insurance coverage were hit the hardest — see the chart below. They were far more likely to have skipped filling prescriptions and refused tests, treatments, and doctors' visits because they couldn't afford them.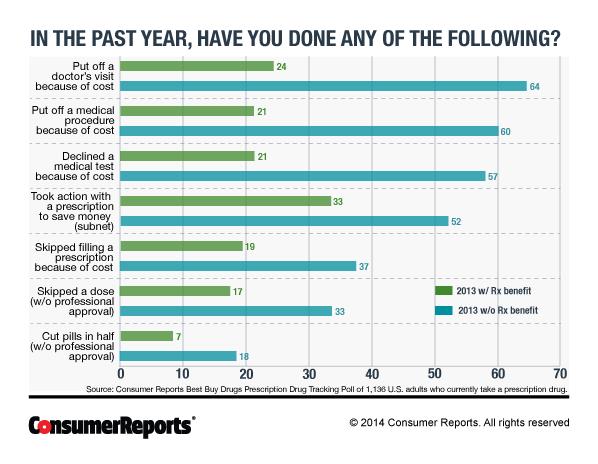 Americans' personal finances were affected in other ways, too. Three in 10 (29 percent) reported cutting back on entertainment and dining out; 19 percent spent less on groceries, and 15 percent put
off paying other bills in order to afford their prescription drugs.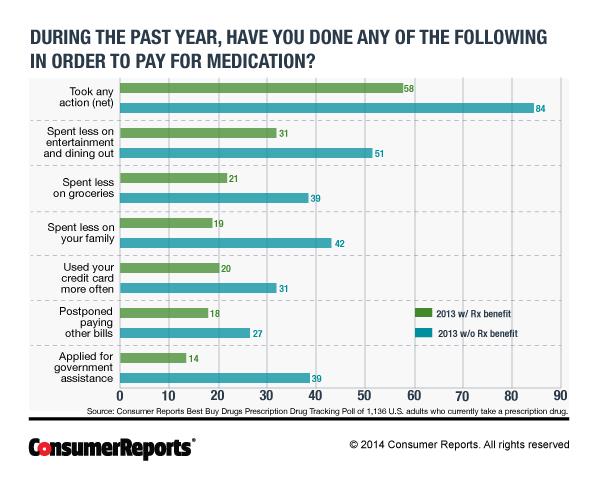 Doubts about generics prevalent
Despite struggling to pay for prescriptions, Americans remain skeptical about generic drugs. Nearly a fourth of those who said they were aware of  generic drugs (23 percent) also said they feared they are not as effective as brand-name medications. Twenty-one percent said they don't trust generics as much as brand-name drugs while 13 percent said they're not as safe. Even so, when asked if they were willing to switch from a brand-name to a generic drug, nearly two-thirds (64 percent) said they were "very willing."
Drug ads lead to higher costs
One reason for Americans' reluctance to trust generics could be related to the marketing of brand-name drugs. Overall, 18 percent of Americans currently taking a medicine have asked their doctor to prescribe a drug they learned about from an advertisement. And among them, 63 percent said their  doctor complied. Moreover, 57 percent of those taking a medicine have accepted  free drug  samples from their doctor. Free drug samples are often a promotional tactic used by drug manufacturers as a way to get consumers acquainted with newer, and usually more expensive, drugs.
Patients and doctors reluctant to discuss costs
Despite the difficulties consumers face paying for medicines, some are still uncomfortable discussing costs with their doctor or pharmacist. Just half had spoken with their doctor about switching prescriptions, and of those, slightly more than a third (38 percent) mentioned a reason related to cost, including wanting a less expensive medication or one covered by insurance. Almost no one (5 percent) found out about the cost of their medication at the doctor's office. Instead, most (61 percent) find out about the cost when they pick up their prescription from the pharmacy.
One encouraging finding is that about nine in 10 consumers who were aware of generics said they would be willing to change to a generic. But though generic drugs can provide huge savings, sometimes priced as much as 95 percent less than brand-name medication, four out of 10 respondents said their doctor sometimes or never recommends generics over brand-name drugs.
What you can do about the high costs of medicines
With consumers spending more than $1,000 a year on prescription drugs, keeping money in your pocket while getting treatment for what ails you is no easy feat. So it's crucial that you be assertive and tell your doctor that cost, as well as safety and effectiveness, matters.
Ask about generics, stopping drugs you no longer need, and whether it's safe to split your pills in half. Following these  surprising tips can help lighten financial your burden and keep money in your wallet. And make sure you get the right insurance, with the drug coverage that works best for you. Our  advice on navigating the new health law and picking a good insurance plan can help.
Finally, check out our Best Buy Drug reports. We rate nearly two dozen common drug classes, including those used to treat allergies,  diabetes,  heartburn, high blood pressure, high cholesterol,
migraines, and sleep problems on how well the drugs work, their risk of side effects, and price.
About Consumer Reports

The Alliance is a proud regional partner of Consumer Reports Health helping promote programs such as Best Buy Drugs and Choosing Wisely. Consumer Reports works to make sure consumers nationwide have the tools they need to make smart choices in the health care marketplace. They offer free resources for patients and families that we simply promote to our membership. For more information about our partnership with Consumer Reports Health, read this press release.
Learn More about the High Costs of Medicines