Awareness is the first step in advocating for better health policy. The Alliance builds awareness by providing updates, links, and news to current information on:
Critical health policy or regulatory issues for self-funded employers at the federal and state level.
The actions we are taking to influence health policy.
Telling federal and state legislators how proposed changes are likely to impact your business.
Help you understand the potential impact of proposed or adopted legislation and regulations at the federal and state level.
Share your stories to support actions that help employers manage and deliver health benefits.
Ask legislation to consider regulations that enhance employers' ability to offer effective, affordable health benefit programs.
Our Framework for Action:
The Alliance and its Health Policy Committee are guided by the health policy platform and resolutions. New or revised resolutions are presented to The Alliance members for approval at the cooperative's annual meeting.
Advocacy Strategy and Tactics
Member Education
Media relations
Partner webinars
Public Official Education and Outreach
Advocate for greater transparency of information through participation in national and regional initiatives
Issue briefs
Calls to action for members and other stakeholders
Editorials and opinion pieces
Presentations to community groups
Lobbying
Testify at public hearings
Meetings with state and federal legislators
Join with partners in efforts to influence health benefit issues
Write letters and organize letter-writing campaigns for members
Submit comments on proposed state or federal regulations
The Alliance Vision Statement
THE VISION THAT GUIDES OUR FUTURE
The Alliance is working toward a future where:
High-quality, affordable health care is reliably delivered to all patients.
People have confidence that their health plans enable them to take care of themselves and their families.
The Alliance members thrive by joining together to control the trend of health care costs.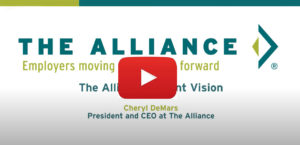 Watch president & CEO, Cheryl DeMars talk about The Alliance Vision here.