MADISON, WI. (Jan. 23, 2023) – The Alliance is dedicated to finding the best healthcare solutions for their employer-members – and themselves. With a tight labor market, they and their employer-members know it's about more than just their bottom line; it's about taking care of their employees. As medical costs continue to rise, it is more important than ever to manage costs and improve access to high-value healthcare for a healthy workforce.
After years of advising its employer-members on self-funded strategies, The Alliance became self-funded three years ago to offer improved benefits for their employees. While they hadn't self-funded earlier due to their small size, as they grew to over 50 employees, and continue to see growth, they felt they could finally take the leap. Self-funding allowed The Alliance to implement similar programs to what they were advising for their employer-members.
By strategically designing its benefits plan, the cooperative was able to keep premiums stable for their employees in 2023 – not increasing deductibles or out-of-pocket maximums. In addition to the high-deductible health plan, The Alliance created a copay plan with $0 copay options for high-value providers. The copay plan, with its $0 tier and incentives, urges enrollees to play an active role in their health by encouraging the use of high-value providers for preventive care, mental health, and shoppable procedures, like elective knee replacements. The company offers free healthcare for plan participants and their families so they can take a proactive approach to their health.
In 2022, Senior Vice President of Business Development and Strategic Marketing Melina Kambitsi, Ph.D., built relationships with independent physicians to offer direct primary care to employees of The Alliance. As a leader in advanced primary care strategies, Kambitsi partnered with providers who prioritize patient health over profits so employees can access the care they need and do not have to pay for unnecessary procedures.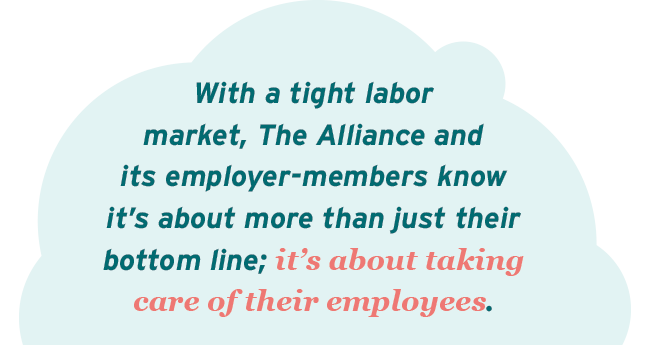 The Alliance's advanced primary care model focuses on an elevated standard of primary care measured by improved health outcomes for patients, lowered total health spend for employers and employees, and achievement of higher levels of patient satisfaction and activation. This model would not be possible without independent primary care physicians who work hard to improve access to high-quality care at an affordable price.
The Alliance works with independent physicians like Dr. Wendy Molaska, MD, FAAFP at Family Medicine Physician and Owner of Dedicated Family Care. When Kambitsi was considering moving her personal healthcare to Dr. Molaska, she was pleasantly surprised by the quality and value. She asked Dr. Molaska about getting shots for knee pain and was quoted $9 compared to a health system that required two X-rays prior to getting shots and would cost $1400. Kambitsi has since transferred her care to Dr. Molaska and is satisfied with the individualized care she is receiving. She says, "Dr. Molaska is great. She provides me and my family with holistic care that's easy, affordable, and accessible."
To implement a self-funded health benefit plan successfully, it is important to have an advocate within the company who understands the plan design strategies, believes in the benefits and can communicate those benefits to employees. The advocate can answer questions that arise, help gain leadership buy-in, and influence employee utilization of healthcare, and Kambitsi has been that for The Alliance.
The Alliance also knows how important it is to work with the right partners. The Alliance works with WPS as a third-party administrator (TPA) for The Alliance employee plan. This partnership has been integral in the administration of The Alliance benefit plan. "WPS shares the same vision as The Alliance and is dedicated to helping employers control cost by navigating members to high-value care," says Jeremy Ott, Vice President of Health Insurance Economics for WPS. "We are growing our partnership with The Alliance and look forward to bringing these types of innovative plans to other employers" he added.
About The Alliance
The Alliance serves as the voice for self-funded employers who want more control over their healthcare costs. Using Smarter Networks℠ and sophisticated data mining and analysis, they provide transparent, creative approaches to network and benefit plan design to unlock savings where others can't – or won't. The Alliance remains a trusted, objective partner for its 300+ employers and their brokers who seek improved access to high-quality healthcare by contracting with a network of 34,000 healthcare providers and doctors across the Midwest.
To learn more, contact Melina Kambitsi.
###

Contact:
Craig Sauer
Marketing & Communications Specialist
Phone: 608.210.6638
E-mail: csauer@the-alliance.org