Employers are the second-largest purchaser of health care in the country, yet typically have 
little say
 in its price – which has gone up every year since 1996 – or its quality.
However, by self-funding and banding together to leverage their purchasing power, employers can generate more control over their costs and demand better c
are for their dollar together.
The Alliance serves as the voice of those self-funded employers who are tired of health care as usual; we've been creating clarity in health care for over 30 years by providing transparent, creative approaches to network and benefit plan design to unlock savings where others can't – or won't – using Smarter NetworksSM and sophisticated data mining and analysis. 
As a not-for-profit cooperative, we're owned by our members and act as a trusted, objective partner for employers and their brokers who seek improved access to high-quality healthcare. We work with more than 285 employers across the Midwest and contract with over 38,000 health care providers and specialists in the region, and advocate for our members through health policy and legislation on a national level. 
The Alliance contracts with over:
The Alliance Mission Statement
THE MISSION THAT GUIDES US EVERY DAY
The Alliance moves health care forward by controlling costs, improving quality and engaging individuals in their health.
The Alliance Vision Statement
THE VISION THAT GUIDES OUR FUTURE
The Alliance is working toward a future where:
High-quality, affordable health care is reliably delivered to all patients.
People have confidence that their health plans enable them to take care of themselves and their families.
The Alliance members thrive by joining together to control the trend of health care costs.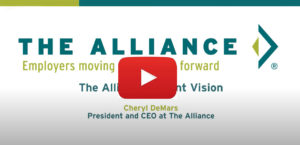 Watch president & CEO, Cheryl DeMars talk about The Alliance Vision here.