THIS EVENT HAS PASSED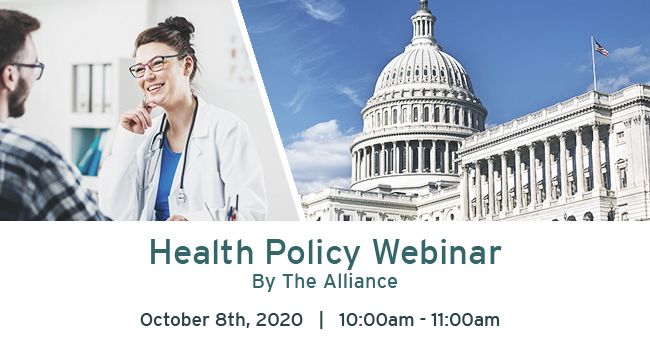 Join The Alliance and the American Benefits Council for a jam-packed, hour-long discussion on popular health policy topics with two experts. Here's the important topics we'll be discussing:
Where 

each presidential c

andidate stan

d

s

 on health reform

 

The future of employer-sponsored coverage

 

What changes (if any) Congress will implement regarding COBRA

 

New Transparency rules and regulations

 

ACA for Supreme Court

 

Updates on Surprise Billing

 

COVID-related telehealth policies

 
Watch the Recording
Presentation Slides
Questions from Attendees
Can you discuss the changes to the wellness incentive rules and regulations for employers?
This question was addressed during the webinar. Skip to 32:19 of the replay to listen to that discussion. For more information on the potential proposed regulations by the Equal Employment Opportunity Commission (EEOC), and the related public hearing in June 2020, see here.
Can you report on status of SB 1989 (Primary Care Enhancement Act) or similar legislation to allow HSAs and DPC to work together?
This question was addressed during the webinar.  Skip to 38:48 of the replay to listen to that discussion. For more information on the related recent proposed regulations by the Treasury Department and the Internal Revenue Service see here, and for comments by the American Benefits Council on those proposed regulations, and on direct primary care arrangements more generally, see here.
What is your outlook on referenced based pricing? 

The rising cost of healthcare is a top concern for employers and, to address the issue, employers are considering a variety of strategies, including design changes. While reference-based pricing could provide cost saving for employers, our sense is that employers are still fairly hesitant to adopt this model (see a 2019 survey showing only 2% of employers adopted this model). This is primarily due to concerns about out-of-pocket costs and "surprise" bills for participants and a sense that the model is less desirable to employees, for hiring and retention purposes. We have heard talk of some employers perhaps considering this model anew, in light of the current economic crisis, but we're not aware of data yet that shows whether that is occurring. This is also something we will continue to monitor, in particular if there is federal legislation on surprise billing, which could possibly address some of the participant cost concerns. Furthermore, restrictions in provider contracts that prohibit plans from steering patients to lower-cost providers can make it difficult to implement a reference pricing program. Pending federal legislation to prohibit such restrictive contract terms may facilitate reference pricing.
Under Biden proposal allowing age 60 means more pressure financially on provider systems. Public option means the same. Where's the money going to come from? 
This question raises an important issue. To the extent individuals switch from employer-sponsored coverage (or other private coverage) to government-provided coverage (e.g., Medicare, public option) that could affect hospital and provider revenues due to the lower reimbursement rates. From the employer perspective, this is an issue we are closely evaluating for the impact on costs for employers and private insurers. At the same time, the intended expansion of the Affordable Care Act Exchanges under the Biden proposal could also lead to more individuals having private insurance through the Exchange (or to switch from other types of private insurance to private insurance on the Exchange) – so not all the coverage expansions would be achieved through government insurance. We have not seen materials from the Biden campaign that directly address this issue, but we are happy to share information if it becomes available.
More generally, according to reports of statements by the Biden campaign, they estimate the healthcare plan to have a net cost of $750 billion over 10 years, taking into account savings expected from certain aspects of the healthcare plan, including prescription drug cost reform. The healthcare plan would be paid for by raising income taxes on high-income people and raising the capital gains tax. With regard to the change to the Medicare age, the campaign has indicated the cost would come from general revenues, rather than the Medicare trust fund.
Learn more about our expert speakers: 

Ilyse Schuman – Senior Vice President, Health Policy at American Benefits Council 
Ilyse Schuman is senior vice president, health policy, for the American Benefits Council. In this role, Ilyse directs the development and advocacy of the Council's health policy priorities. Before joining the Council staff, Ilyse was the Council's Policy Board of Directors Advisory Council representative from Littler Mendelson, P.C., where she was co-chair of the Workplace Policy Institute. In this role, Ilyse provided strategic counsel and representation to clients on a broad array of workplace issues and developments in Congress and executive branch federal agencies. She was also a member of the firm's ERISA/Employee Benefits practice and co-led the firm's Legislative and Regulatory practice.
A former top congressional staff member and policy advisor, Ilyse worked on the Senate Committee on Health, Education, Labor and Pensions from 2001 to 2008, culminating in her role as minority staff director and chief counsel. She began her work in the Senate as chief labor counsel for Senator Mike Enzi (R-WY) on the Subcommittee on Employment, Safety and Training. After leaving the Senate, Ilyse served as managing director of the Medical Imaging and Technology Alliance. Ilyse also has served as in-house counsel at a manufacturer and market and technology leader. She holds a bachelor's degree from Tufts University Jackson College and a law degree from Georgetown University.

Katy Johnson – Senior Counsel, Health Policy at American Benefits Council 
Katy Johnson is senior counsel, health policy at the American Benefits Council. Katy assists Council members on a wide range of health policy and issues and directs the Council's activities with respect to health care reform, ERISA and other federal regulations impacting employer-sponsored health benefits.
Prior to joining the Council in 2019, Katy was an attorney advisor in the Office of Benefits Tax Counsel at the U.S. Department of Treasury. Before that, she served as an attorney in the health and welfare branch of the Office of Chief Counsel at the Internal Revenue Service. In these positions Katy had lead responsibilities in crafting guidance related to several employer plan sponsor provisions of the ACA. She also played a key role representing Treasury in coordinating health care guidance with the U.S. Department of Labor, U.S. Department of Health and Human Services and other executive branch entities. She also provided technical assistance to members of Congress in the development of health care legislation, including measures related to health savings accounts.
Katy is a Phi Beta Kappa graduate of Middlebury College and graduated Stanford Law School, where she served on the managing board of the Stanford Law Review. Earlier in her career she worked at the U.S. Department of Justice, was a judicial clerk at the U.S. Court of Appeals for the Eighth Circuit and was in private law practice where she advised clients on health, retirement and executive compensation matters.

This Event has been approved for HRCI and SHRM Credits. We look forward to seeing you at this event!