THIS EVENT HAS PASSED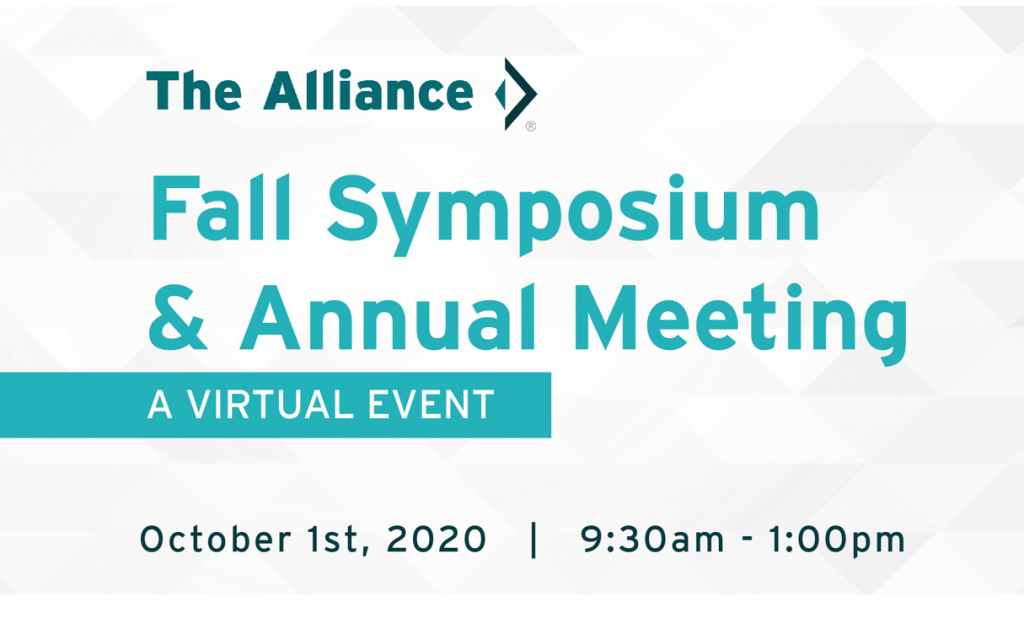 Due to the pandemic we're all still grappling with, our Fall Symposium & Annual Meeting will instead be hosted as a virtual, three-hour event on Oct. 1st, 2020. Despite our inability to see our each other, shake hands, and share some smiles in person, there's still a lot in store and we'll have plenty to talk about – so we sincerely hope you attend! Here's the agenda:
Welcome Remarks 
Led by Cheryl DeMars, The Alliance, CEO 
Business Meeting  
Led by Paul Meyer, COO, The Alliance, & Wendy Culver, The Alliance Board Chair  
RAND Corporations Hospital Price Transparency Project 
 Hosted by: 
Cheryl DeMars, CEO

,

The Alliance 

Chris Whaley, Policy Researcher, RAND Corp
Driving High-Value Health Care at The Alliance
Hosted by:  
Melina Kambitsi

, 

Ph.D., SVP, Business Development & Strategic Marketing, The Alliance 

Kyle Monroe, VP of Network Development & Provider Relations, The Alliance
The Alliance 30-Year Anniversary Video
Health Transformation Award Winner Ceremony
Conclusion
Led by Cheryl DeMars, The Alliance, CEO 

This Event has been approved for HRCI and SHRM Credits.
Watch the Recording
Event 
Resources
Learn more about the speakers

:

 
Melina Kambitsi, Ph.D., Senior Vice President, Business Development and Strategic Marketing, The Alliance
Dr. Melina Kambitsi joined The Alliance in 2017 and leads the team responsible for membership growth and retention of the cooperative. Dr. Kambitsi comes to The Alliance from Network Health in Milwaukee and Menasha, Wis. where she was chief sales and strategy officer. In this role, she was responsible for sales and underwriting, strategic planning, product development and risk-based contract analytics. Earlier she was senior vice president of sales at Blue Cross Blue Shield in Honolulu, Hawaii and the vice president of sales, marketing and product development at Blue Cross of Northeastern Pennsylvania.
Dr. Kambitsi received her bachelor's in international studies and her master's and doctorate degrees in economic geography at The Ohio State University.
Kyle L. Monroe, Vice President, Network Development and Provider Relations, The Alliance 

 
Kyle Monroe joined The Alliance in 2017 as vice president of network development and provider relations. His responsibilities include creating and maintaining relationships with health systems, clinicians and other providers to support The Alliance's strategic goals of improving health care value and organizational growth. He also designs and adopts purchasing and reimbursement mechanisms to accelerate progress toward high value, safe care delivery.
Before moving to Madison, Kyle served on the Board of Directors for the Healthcare Financial Management Association-Kentucky Chapter. He also was on the advisory board for ValidCare, a company dedicated to developing and implementing mobile technology for patients and caregivers.
Kyle received his Masters of Business Administration in accounting and finance from the University Of Louisville College Of Business and his Bachelor of Arts degree from DePauw University in Greencastle, Ind.
Christopher Whaley, Policy Researcher, RAND Corporation

 
Christopher Whaley is a Policy Researcher at the RAND Corporation and professor at the Pardee RAND Graduate School. His research focuses on using large-scale medical claims data to examine how information and financial incentives influence patient's choice of providers, how providers respond to changes in consumer incentives, and how employers and insurers can design insurance benefits to promote value. 
His research has been published in a variety of clinical, health policy, and economics journals. He is the lead author of a JAMA paper that examines the effects of online price transparency information. This paper was a finalist for the 2015 National Institute for Health Care Management Foundation Annual Health Care Research Award. He also received the 2015 AHRQ Research Conference Director's Award for a paper published in JAMA Internal Medicine that examines the effect of reference pricing on consumer choice of providers for cancer screening services. Whaley received a B.A. in economics from the University of Chicago and a Ph.D. in health economics from the University of California, Berkeley. 
Sponsored by: