How does The Alliance Help with Employee Health Guidance?
From data on cost and quality for employers, to presentations at employee meetings, The Alliance offers resources that help employers introduce employee health guidance programs. Utilizing guides on how to ask the right questions when getting care and directing their workforces towards the best care at the lowest cost possible helps employer – and employee – bottom lines.
Provides resources for plan design and analysis through Smarter HealthSM and QualityCounts®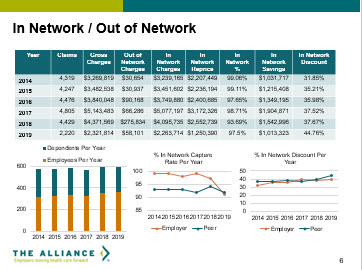 Sample of an
Employer Summary Report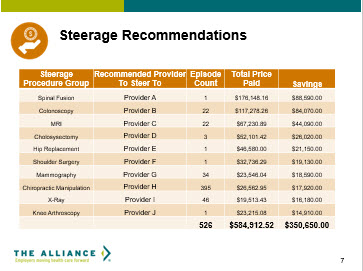 Sample of an
Employer Steerage Recommendation Plan
Our employer-specific and customizable Smarter HealthSM analysis is offered to all members of The Alliance. The Smarter HealthSM analysis utilizes our quality assessment tool, QualityCounts®, which provides managing and consulting services related to The Alliance's core business of cooperative healthcare purchasing. We utilize quality data to compare appropriateness of care among different providers, and are continually expanding our quality-assessment services. Learn more about how we developed QualityCounts and why it matters.
The Smarter HealthSM analysis employers receive provides the foundation for a successful employee health guidance program. Its data includes claims history, provider utilization, cost trends, and more. The Alliance uses this information to show employers where they can save money by guiding their employees to low-cost, high-value providers. To request your own Smarter HealthSM analysis, please complete this form.
Offers employee education.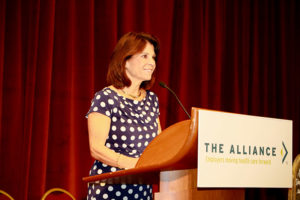 A consumer toolkit and presentation can help employees learn How to be a Better Health Care Consumer.
The Alliance hosts multiple of events and webinars throughout the year that offers tips and resources for educating employees on their health benefits and how to use their network intelligently.
Supports member networking and one-on-one meetings.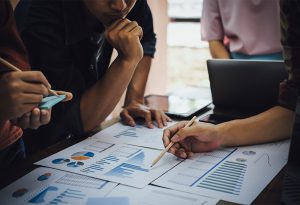 The Alliance is available to meet with employers and, if desired, their brokers to offer information about incorporating an employee health guidance program using Smarter HealthSM into your benefits strategy.
Additionally, The Alliance helps you connect with peers at events and webinars.