Showing you what we do at The Alliance is much easier than telling you.
The Alliance recently updated a chart that explains how we handle health care claims on behalf of more than 200 employers. Employers with self-funded health benefits join The Alliance cooperative to take advantage of our services, including discounts with a broad network of health providers in Wisconsin, Illinois and Iowa.
As the manager of claims and customer service for The Alliance, I lead a team that makes sure that every clean claim is repriced within three days of its arrival. In fact, 76 percent of the over 850,000 claims we receive annually are repriced by The Alliance in less than half of a day of their arrival.
How does that happen? Take a look at our chart.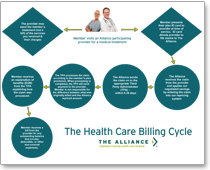 Learn More about The Alliance
Read our About Us page.
You can influence health policy. Learn how.

Latest posts by Carlene Boehmer
(see all)